Volunteering for Peace International day of Peace Celebration
Volunteering for Peace organization in cooperation with its partners AL-Rowwad Society for Theatre and Culture and United for Palestine CC organized a celebration of UN International Day of Peace on September 21st at Aid Refugee camp, Bethlehem, Palestine
The activities took place in a marginalize area at Aida refugee camp which is located in the city of Bethlehem.
The activities started with a special event for children under the theme "Lets Draw Peace" in which children were given drawing papers and colors and were asked to draw what does peace to you, the children were creative and used different methods to reflect what does peace mean to them, followed with a discussion with the children about the international day of Peace and the importance of this day to reflect the need of peace in Palestine and around the globe, the activity took place in a closed theatre room inside Al-rowwad center.
The second activity were mixed which included youth and adults who shared together some open space games at the open theatre which included also an open discussion about peace and International day of Peace and the United Nation role in Peace building. International Volunteers from interfaith organizations participated in the event as well as representatives of local and International organizations. Tareq Altamimi, URI Global Council member described the role of URI in Peace building and the role of URI in MENA region interfaith work.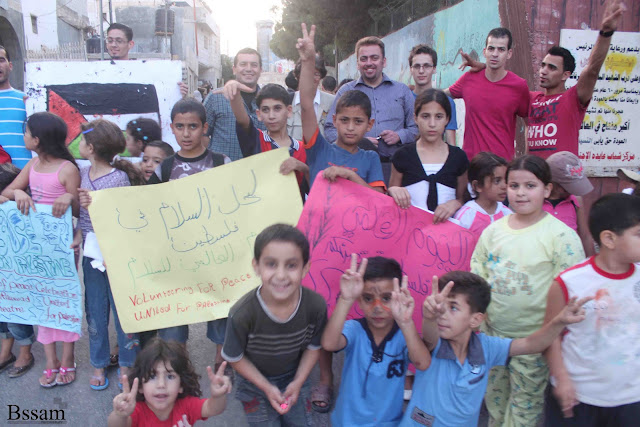 In the evening a demonstration under the theme "March for Peace" were organized in the streets of the refugee camp under the Key of return gate near the Israeli Apartheid wall with the presence of Dr. Abed Alfattah Abu Srour and others local leaders from different organizations.
In the evening the activities were finished with a special folklore Night and Dabka dance with a great performance of Al-rowwad Theatre group at the city of Beit Jala in Bethlehem.